Covid-19 Update: Mr Dog Poop is still operating although with a skeleton staff to maintain social distancing. As long as the US Post Office is open and delivering poop to our door, we will stay open.

With most of the human testing labs working on Covid-19 testing, there is a severe lack of lab supplies across the country. We have been shipping our own lab supplies to organizations and communities in need of surgical masks, gloves, testing reagents and lab consumables. However, we still have adequate supplies to service our own customers since most communities have closed their leasing offices. There are currently no delays in testing or onboarding new customers.
Today, nobody is a stranger to DNA being used to catch criminals. We have all see it on TV and it has become a real part of everyday life. But only a few have taken that technology and applied it to stop careless dog owners from leaving their dogs poop for everyone else to scoop.
Here at Mr Dog Poop we have done just that. By creating our own DNA processing lab in Tampa Florida and our proprietary CRIME LAB™ database of canine DNA profiles that can be used to match registered dogs with Poop Left On Property.
We work directly with apartment managers, Home Owners Associations and community leaders to enforce their dog poop scooper rules by applying DNA technology to match the poop to who didn't scoop.

1. First dogs are swabbed to collect DNA samples from their saliva.

2. That saliva is processed by our DNA lab and a digital finger print is created for each dog.

3. The "poop and run" crime is committed.

4. Dog poop found at the "Crime Scene" is sent to our DNA lab and a digital finger print is created for the poop.

5. Using our proprietary CRIME LAB™ database processing and matching software that poop print is compared with all the dogs in the database looking for possible hits.

6. Once potential matches are identified our lab techs examine the fingerprints more closely to confirm that we have in fact correctly identified the guilty party.

7.The rest is up to you, incarcerate, fine or evict the criminal offender.
Dog Poop DNA Kits Are Shipped Nationally

Mr Dog Poop Inc is shipping DNA testing kits all over the USA to be used by apartment complexes, home owners associations and property management companies. Our DNA testing kits are the easiest to use, most reliable and most desired. All the kits are provided at no charge with a long term contract making our dog poop DNA matching program the most cost effective solution available today. Kits can be shipped as quickly as the same day, so there is never any reason to delay getting started.

Getting Started & Understanding Costs
We work with each individual community to create a program, develop tools and processes that work best in their unique situation. No two programs will be exactly the same but they will all identify guilty dog owners the same way.
The most difficult part about this product is the integration and getting everyone to submit DNA samples without kicking and screaming. That is why we offer several different integration options and customize those further to meet the requirements or circumstances of each community.
There is no one size fits all at Mr Dog Poop, while we will create a program in the budget not exceeding $35 per tested dog and $50 per tested poop sample, each program will be unique, have unique supplies and operate in a slightly different manner.
Some management companies will pay to have all the dogs tested on day one, others will ask us to collect payments from the residents directly and others will test only new arrivals paying for each sample as they go.
Our goal is to work with each management team to make the process as effortless as possible while still being effective at stopping dog poop.
We are trying to solve problems here at Mr Dog Poop and working to customize a solutions for each customer is part of that process.
While we would love to tell you to just buy our $10,000 kit and sign a contract, we all know that is not in anyone's best interest and would not work into anyone's existing management plan.
Our goal is to implement this into each property at no cost to the management company. Either by gradual integration or by having residents pay us directly for DOGdex ID's.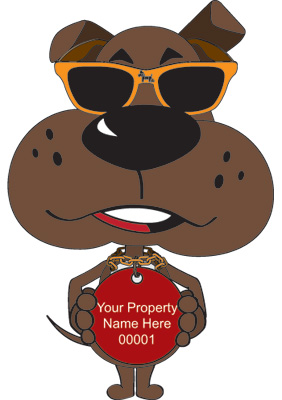 Helping Property Managers Track Pets
Using our online management tools, property managers can effectively manage all the dogs on a property. Tracking pets, owners, activities and of course those "Poop and Run" events.
Custom ID tags, unique to each property, are provided to clearly show which dogs on the property have been registered with DNA profiles. Any dogs observed without the correct property tags can be reported, further helping property managers avoid those unauthorized pet issues.
A pet management solution will not only end the dog poop left on the property, it will simplify managing those pets and minimize daily pet problems burdening the management staff.
Stopping The Dog Poop Problem

This is all about stopping dog poop left on your property. We work with you to make that a reality and make your dealing with dog poop complaints a thing of the past.
We are on your side in this battle against dog poop.
Give us a call, you will be amazed at how flexible and helpful we are and how many options you have with Mr Dog Poop's CRIME LAB.
Call Us Today
Call us, tell us what you need, how you think the program should unfold and we will work with you to make it happen as close as possible to your most ideal plan.
We don't want to tell you how, we want you to tell us how you want it done.
We realize, ending dog poop today is probably not in your budget, so we will work with you to create a program with a positive cash flow with no up front costs, so you never have to spend one penny until you have collected fees or fined a resident..