Mr Dog Poop Inc is an Information Technology and Biotech company with our own DNA lab where we process and match dog poop samples for our customers. OK, it may not be the biggest or most impressive DNA lab in the world, but as far as dog poop DNA labs go, it is really not half bad. We have made a significant investment in creating the perfect processes and lab environment to process thousands of samples weekly without having to charge customers extensive forensic lab rates.
Our goal is not to shock and awe anyone into working with us by showing photos of some mega lab, but rather to assure everyone that we have in fact developed our own processes and technology and have all the tools and resources to deliver our product as advertised. We spent over a year testing dogs and developing the multiplex of 23 markers that we now use for genotyping. The time was necessary to make sure we had the perfect solution for matching poop. So despite our small size, we do have the very best tools, technology and resources available to provide the fastest and most effective program at each and every community.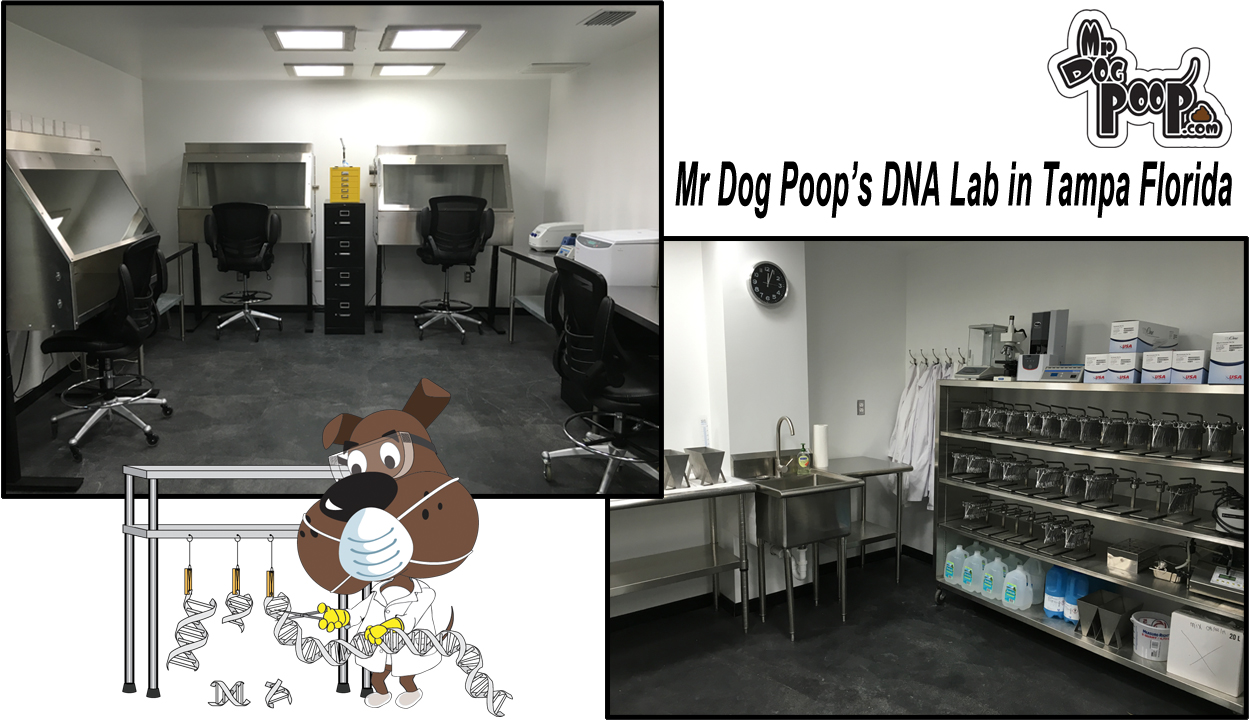 Extracting the DNA from Dog Poop
When dog poop samples arrive at the lab in Tampa Florida the first step in the identification process is to isolate the actual DNA from the dog's poop. This is done in a complex series of steps taking more than an hour, however we have created a demonstration video that shows an overview of the process in less than 5 minutes. While it is quite an extensive process it is just one of the steps in a much more complex series of procedures to get to the final result. This demonstration shows some of the tools and procedures we use and a glimpse of our DNA lab in action. Our stainless steel clean air PCR prep stations are a key tool in preventing cross contamination and accurate matching by using ultra-violate light to decontaminate all surfaces before each use.
In this video a sample of DNA is being measured using our BioSpec Nano Spectrophotometer which shoots light through a single drop of diluted DNA to determine the concentration and purity which is displayed on the computer screen and sent to our database to track all the measurements and data during the DNA processing. The nano class spectrophotometers are a huge advancement over the older cuvette type which require more lab time to take the same measurements. The better technology allows us to save time, money and deliver a more cost effective service.
Once we have the DNA extracted and purified we can move on to the PCR or DNA amplification process. The DNA is mixed with a proprietary mixture of oligos nucleotide primers and Taq Polymerase then loaded into a thermal cycler where it is heated and cooled at controlled rates for about 4 hours.
This process will cause the segments of the DNA to duplicate over and over until we have billions of duplicate strands of each marker that we can measure using capillary electrophoresis.
The video on the right shows a lab tech loading a 96 well plate into one of our ABI 2720 thermalcyclers. We run several of these machines in order to get the throughput we need each week to process the high volumes of samples.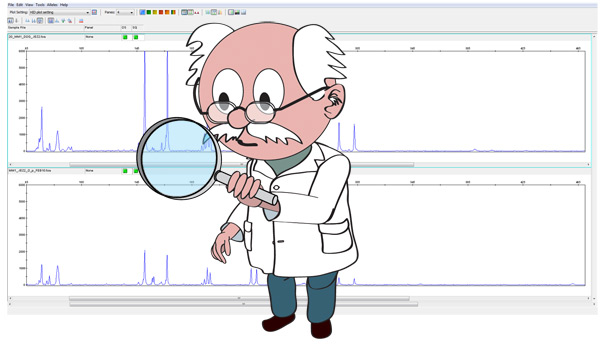 Once the fragment size data is generated we use software to create visual graphs or electopherograms of each DNA profile. Lab techs then check samples for impurities, dye bleeding, bad data or cross contamination from other dogs. If the samples were not collected properly they could have DNA from more than one dog which would make matching impossible. This manual review of all data is necessary to make sure we have a clean accurate profile on each dog or dog poop sample.
After data is validated and confirmed to be satisfactory, the information is exported to our own Private IT Datacenter where genetic profiles are storred in the CRIME LAB® database for matching when the poop samples are found on the properties. Since Mr Dog Poop® was created as a division of an exiting IT company established in 1997, we had the resources to build "the most powerful Dog Poop DNA matching database in the world".
How powerful?
Commercial servers with up to 8 multicore CPU's each, are networked together giving us the full processing power of more than 100 multicore CPU's to process complex data, compare genetic profiles and manage all customer information from invoicing to inventory. Our private internet backbone features multiple dedicated fiberoptic connetions managed through Cisco 6500 routers and enteprise level firewalls for the lastest in security and reliability. This is all backed up with full battery power and an on demand generator capable of running indefinetly during extensive power outages caused by any storms or hurricannes.
Yes, it is a very small dog poop DNA lab and while may not be up to the the Federal Bureau of Investigation standards for solving human crimes, we do have the capacity to process thousands of dog poop and saliva samples each week. After all, DNA is not very big and we don't need a huge amount of space to work on it. We also choose to keep our lab small and manageable to keep your cost as low as possible. If we wanted extravagant, we would have to charge much more for our service and that just does not make any cents for anyone.
We have all the equipment needed and use stainless steel PCR prep stations with UV Bacterial decontamination lights to keep surfaces free of any possible cross contamination. Stainless steel is the preferred surface for sterilization in all hospitals, operating rooms and lab environments.
We use proprietary methods, unique markers and have a process that we know is as good or better than anything else available. Our Tampa based Tampa DNA lab is a great starting point for our company and we hope for your community's dog poop DNA management solution.